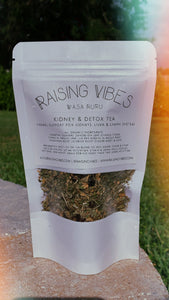 HERBAL SUPPORT FOR KIDNEYS, LIVER & LYMPH SYSTEM

All Organic Ingredients:
horsetail, cleavers, dandelion leaf, chanca piedra, cornsilk, parsley leaf, juniper berries, burdock root, hydrangea root, licorice root, ginger root, and love
Tea Preparation: Mix 1 tsp of tea blend into hot water. Cover & Steep for 5-15 minutes. Set an intention. Strain & Enjoy! Optional: Add honey. Do not drink pregnant or breastfeeding.

Infusion Preparation: For more potent & medicinal tea, Mix 1 Tbs-1/4 Cup into 32oz of hot water. Allow it to cool. Herbs can infuse from 3+ hours to overnight in the fridge. Drink the following day.
If you are drinking this tea blend daily or making infusions, please pause after drinking consistently for two weeks at a time. Take a break, then you may continue again after 2-4 weeks.

*These statements have not been evaluated by the FDA. These products are not meant to treat, prevent, or cure disease. Please consult your medical practitioner if you have any questions.